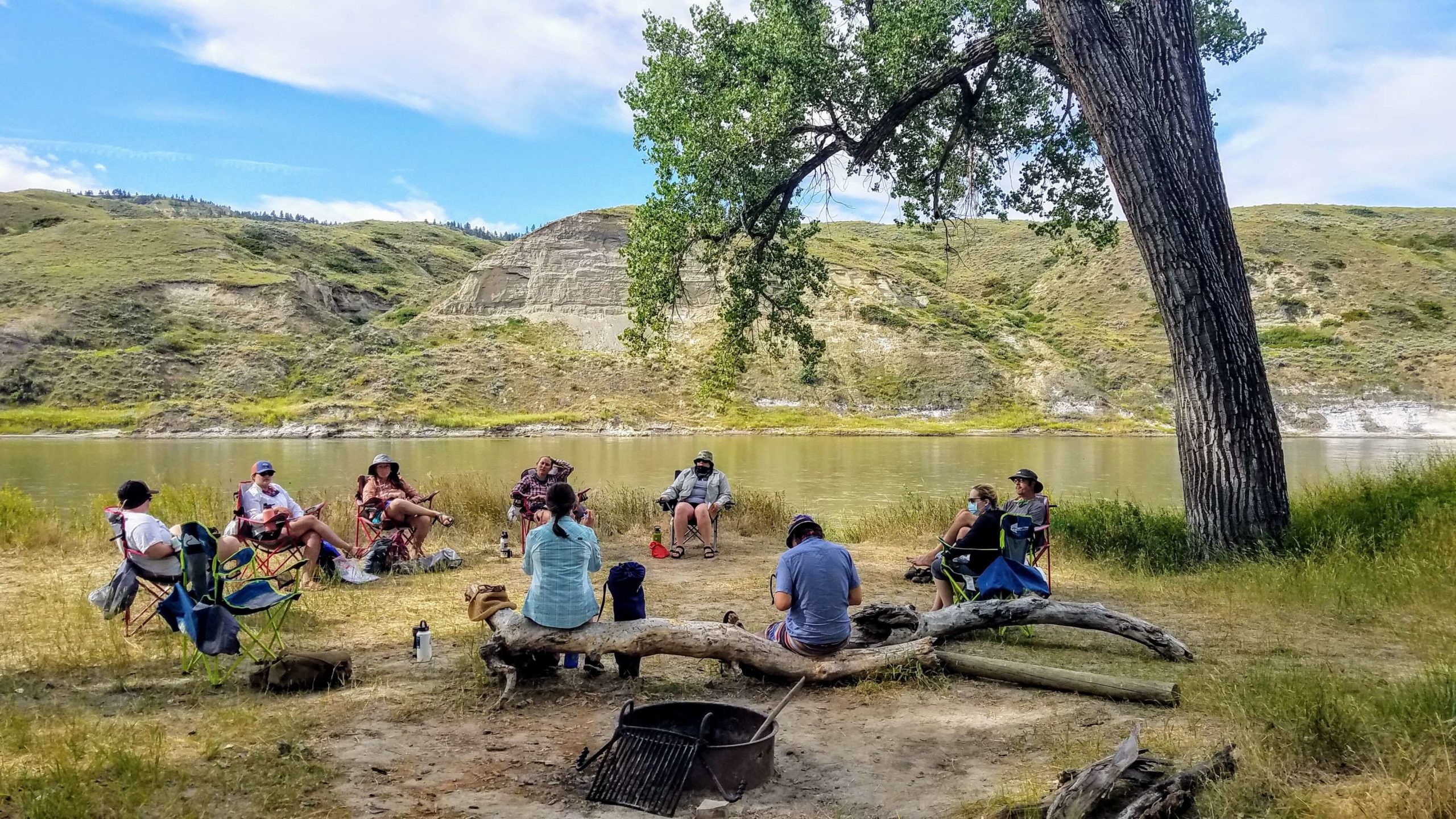 Stories in the Sandstone:
Desert River Writing Workshop
STORIES IN THE SANDSTONE: Desert River Writing Workshop
hosted by Pam Houston, author of Cowboys Are My Weakness and Contents May Have Shifted
6 – 10 JULY 2019 /  GATES OF LODORE, GREEN RIVER /  UTAH
An exploration of historical, personal, and ecological narrative in Gates of Lodore through Dinosaur National Monument
Pam Houston, Professor of English at UC Davis and Pushcart Prize-winning author, leads this wilderness writing retreat. With one evening session in Vernal, Utah followed by four days on the Green River, floating through the sandstone canyons of Gates of Lodore and Dinosaur National Monument, this course will provide you with the space and inspiration you need to (re)connect to your craft.
In Houston's own words:
This will be a generative workshop in which we focus on all the ways the sensory details that surround us—the sights, sounds, smells, tastes, and textures—can give us access to that much more elusive interior landscape we are always trying to access when we write.  If we write those details all the way down to the bone.  If we sit in the dark with them and let them distill up from the swamps of memory. 
We will focus on what I believe to be the real artistry of prose writing: the way we dip our ladles into the bottomless pot of metaphor soup of our lived and witnessed experience and pull out what we need; the way we pick up hunks of the physical world and bring them back to the page, translated into language.
We will be aiming for work in which the language is always working in at least two ways at once, where metaphors dance between meanings like beads of water on a too hot grill. We will work toward demystifying some of the essential components of prose writing (image, metaphor, structure, dialogue, character, scene, among others) and turning them into comprehensible tools that are at our disposal. We will all, no doubt, be humbled in the face of language's unlimited possibility as well as its limitation. At the same time we will honor (and hope for) the inexplicable flights of creativity (and madness?) that take a good story and make it great.
Is this program for you? (All signs point to YES.)
Do you crave community in your creative work?
Are you drawn to moving water and curious about the desert?
Are you seeking tools, inspiration, guidance, or direction in your writing practice?
Who Should Apply
Anyone who likes to write! There is NO prerequisite of publication or formal writing education. You should be excited to think, talk, and dream about writing while on this trip. You should also be willing to participate in generative writing activities, workshops, and group discussions related to the work and craft of creative writing. Please come armed with pen and paper, your vast memory banks, your active and engaged senses, and all the things you don't even know you know.
Program Details
The daily schedule of the course will vary depending on the river level, weather, and myriad other factors involved in a wilderness river trip, but the intended daily meeting structure will look something like this:
a morning convergence during which goals are established and readings are discussed
a lunchtime generative writing session
an evening seminar session
You may choose to work independently or in small groups throughout the day, producing written work, reading, and analyzing/reflecting for group discussion.
What to Expect
A multi-day river trip is an exercise in simplicity. The excess and bustle of "the real world" is stripped away, leaving only the essential in its place. Each morning, the birds and our guides will wake us with a coffee call; leisurely breakfast will follow.
Integral to the course is intentional exploration of place: side hikes to historical sites, pictographs, or highpoints along the river will be offered daily.
An element of personal challenge is inherent to the course. You will be encouraged to step beyond the limits of comfort, both physically and intellectually / creatively. Freeflow staff will be there to guide and support you as they you through this new landscape.
This river trip, though not excessively strenuous (it's quite luxurious, actually!), will require you to move over uneven ground, across rocks, and through water. We recommend that you engage in regular, moderate physical training / activity for at least the two months prior to your trip. Basic swimming skills, though not necessarily required, will help with your comfort on the river. If you have any health conditions or concerns, please let us know and we will help you determine how to best prepare for your trip.
EVENING WORKSHOP + PRE-TRIP ORIENTATION
July 6, 2019 in Vernal, Utah, 4:30 – 6:00 pm
Pam Houston will lead an introductory workshop in Vernal the night before we launch. Freeflow and Dinosaur River Expeditions staff will orient you to the logistics of the river trip. If you're coming into Vernal from out of town, let us know and we'll help you find lodging for the night of July 6. There are also options to camp near Vernal after the pre-trip orientation. You'll have time after orientation to enjoy dinner in Vernal, organize your gear, and get a good night's rest before we depart early the next day.
FIELD EXPERIENCE
July 7 – 10, 2019 on the Green River through Gates of Lodore and Dinosaur National Monument
We'll meet at 7:00 am to travel with Dinosaur River Expeditions to the put-in on the Green River. From there, our guides will take care of the details, and we'll be free to focus on our writing, observation, and general revelry.
COSTS + DEADLINES
Your program cost includes:
daily writing instruction + one-on-one sessions with Pam Houston and Freeflow staff
pre-course reader
transportation between Vernal and the Green River
all meals, snacks, beer, and wine on the trip
professional, licensed river guides
personal flotation devices (PFDs) and all river safety gear
Sleep kits (sleeping bag + sleeping pad) may be rented for $40. Tents may be rented for $20.
National Park passes are $15. If you have your own already, bring it and you need not pay that fee. Let us know if you'd like us to purchase your pass for you!
Guide gratuities are not included in the program cost. We strongly suggest giving your river guides some love, and we are happy to discuss norms for tipping – just ask.
As the program date approaches, we are happy to help facilitate Freeflow carpools from Salt Lake City or Denver.
Registration deadline is May 15, 2019. Capacity on this course is 16 students, and we will close registration once the roster is full.
Our preferred methods of payment are check, money order, or FREE bank transfer via the link in the invoice we'll email to you.
What to Bring
Once you are registered for the course, we'll send you a complete river trip packing list. We'll also provide you with a pre-trip reader, suggested supplemental reading list, and any "homework" you'll need to complete before we get on the water.
Our Professional Outfitting Partner
Since 1979, locally-owned, Vernal-based Dinosaur River Expeditions has been sharing the magic of the Green and Yampa Rivers with visitors from across the world. Owners Tyler and Jennifer Callantine share a passion for the outdoors and for whitewater rafting. Freeflow Institute is proud to work with DRE as our licensed and permitted professional outfitter for this trip.
Program Cancellation Policy
Program deposits and fees are non-refundable. The remainder of the program balance is due on May 15th unless otherwise specified, and is non-refundable at that time.  Space is limited on all of our trips and once you have registered, we no longer have the opportunity to sell your reserved space; however, transfer of your space to another participant is usually an option. We STRONGLY encourage purchasing trip insurance (try www.insuremytrip.com).  We reserve the right to cancel a trip due to reasons including, but not limited to, insufficient reservations, water levels, health issues, wildfires, and other issues that may impact your ability or desire to participate in the trip. In the unlikely case of trip cancellation, a full refund will be issued.