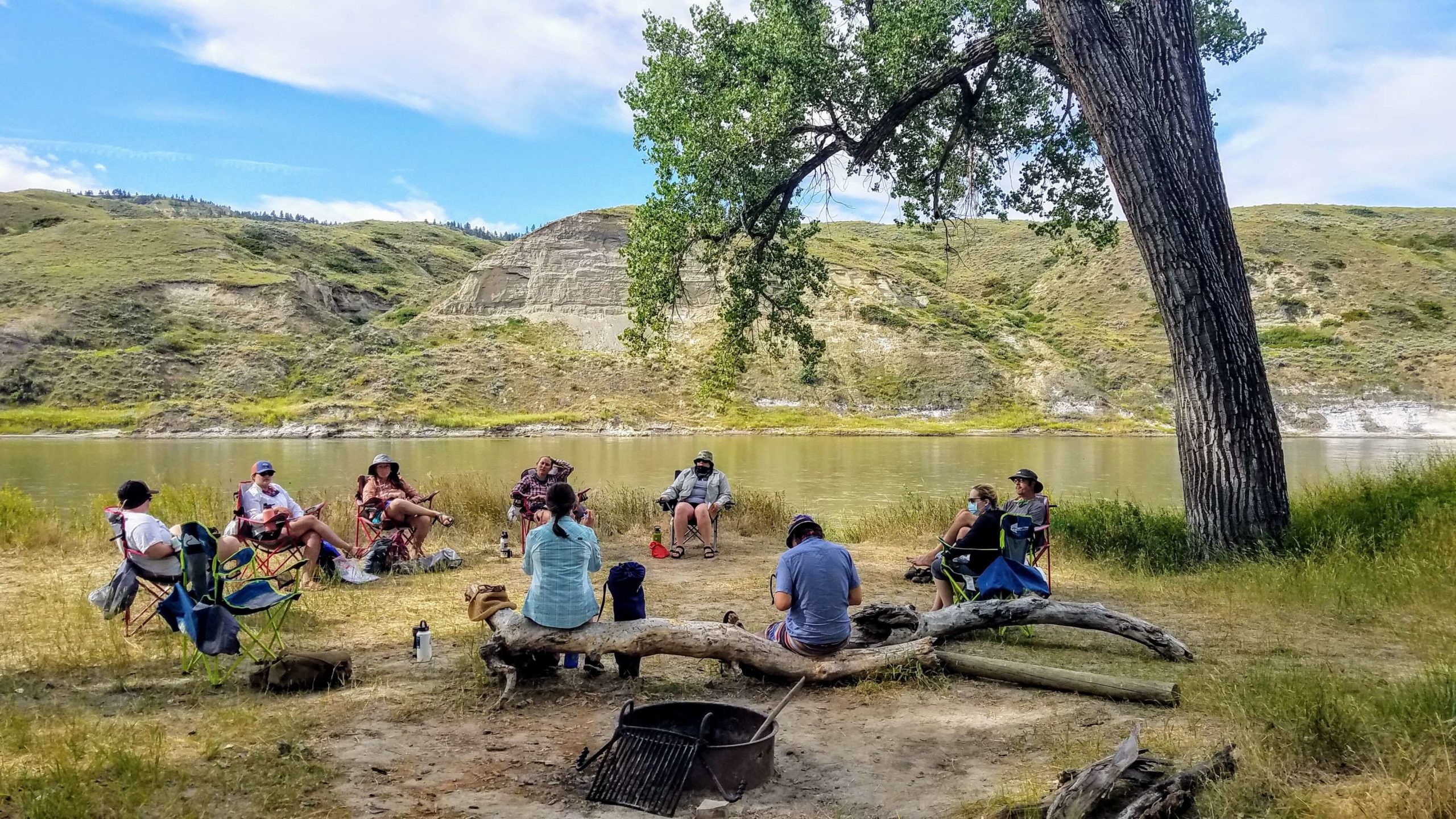 2022 Green River Field Institute
Downriver Through Dinosaur
hosted by Heather Hansman, author of Downriver: Into the Future of Water in the West and Powder Days
2 – 8 SEPTEMBER 2022 / GATES OF LODORE, GREEN RIVER, UTAH
A creative journalistic exploration of the Green River's Gates of Lodore + Dinosaur National Monument, focused on inquiry, truth-telling, and resonance in the realm of ecological and social issues
ABOUT HEATHER
Heather Hansman is an award-winning journalist whose work has appeared in The Guardian, The Atlantic, Smithsonian and many others. She's Outside magazine's online environmental columnist, where she covers the intersection between public land, environmental policy, and human impact. Her recent book Downriver: Into the Future of Water in the West, which is about the Green River and the future drought, climate change and water policy in the western U.S., has been called "a worthy updating of a core library containing such works as Marc Reisner's Cadillac Desert." Her new book Powder Days: Ski Bums, Ski Towns, and the Future of Chasing Snow was released in November of 2021.
Listen to Heather's interview with Ed Roberson on Mountain & Prairie Podcast.
ABOUT THE FIELD INSTITUTE
You can't tell a story if you don't have a story to tell, so both reporting and storytelling skills are crucial to writing about the natural world. Over five days on the Green River, we'll dig into big questions about environmental reporting and narrative non-fiction by way of the river. How do we report and write stories that make readers care about the world? What are facts and why are they important? How do you build character and scene, based on reporting? How do you make environmental issues and climate change vivid and alive? How do you create a broad-reaching story that comes from a sense of place? You will work through the process of creating story ideas, reporting, pitching, and putting together a polished story.

– Heather Hansman, 2022
Led by Heather Hansman, Outside magazine's environmental columnist, and author of Powder Days and Downriver, her book about the Green, and water issues in the West, which was called one of the best environmental books of 2019.
The Green River Field Institute features craft lectures with Heather, generative exercises, workshopping sessions, and ample opportunities for discussion and inquiry. An element of personal challenge is fundamental to a Freeflow experience. To that end, the workshop incorporates movement – along the river and through the landscape – as well as intentional exploration of place, as individuals and as a group.
Participants will receive a list of readings, audio pieces, and video to be reviewed before the course. Participants will be expected to prepare fully by reviewing all required items on the media list as well as by identifying a general theme, interest, or idea to explore and expand while on-course. By the end of the course, participants should expect to come away with a solid pitch around their chosen theme. Participants may choose a topic or idea that's completely novel, or may choose to expand an existing effort.
The cohort will convene two times via Zoom in the month prior to meeting in Vernal, Utah for the field experience.
The course is accredited through the University of Montana's Journalism School, and optional college credit is available for undergraduate and graduate students.
The course may also count toward continuing ed credits for professionals in some fields. Check with your organization or institution to see if the workshop can count toward your professional development.
PLAN YOUR ADVENTURE
Evening of September 2, 2022 ORIENTATION in Vernal, Utah
Morning of September 3 – afternoon of September 7 RIVER-BASED FIELD EXPERIENCE on Gates of Lodore of the Green River
Morning of September 8 DECOMPRESSION in Vernal, Utah
IS THIS COURSE A GOOD FIT FOR YOU?
This is an intensive field institute for working journalists, aspiring journalists, students or teachers of journalism, and all other committed writers, from all backgrounds. Established and emerging journalists and writers are encouraged to apply.
Journalists, nonprofit communicators, university students, science writers, and environmental writers will find this field institute valuable.
There is no prerequisite of prior publication or formal writing education, but students should be compelled learn about crafting stories with intent to publish, inform, educate, or connect.
COSTS + DEADLINES
Because we believe teachers and students need regenerative outdoor experiences more than most, Freeflow always extends a small discount to contracted educators and enrolled students. We also offer a small discount to our alumni. Because we believe in paying our instructors, facilitators, support staff, and guides an equitable wage, we do not offer individual discounts that compromise the integrity of those wages.
If you need financial support on your Freeflow course, we invite you to read about our scholarship offerings here. Please check our scholarship page often.The first application window for our scholarships closes on APRIL 1, 2022. We're also very happy to email or talk on the phone with you about which scholarships might be right for you!
The program cost includes:
daily workshops, craft lectures, and one-on-one sessions with Heather Hansman and Freeflow staff
transportation between Vernal, Utah and the Green River
delicious meals and snacks on the trip
professional, licensed river guides
all taxes and access fees
waterproof bags, lifejackets, and all specialized river gear
Sleep kits (sleeping bag + pad + pillow) may be rented for $40.00; tents for $20.
Guide gratuities are not included in the program cost. We strongly suggest giving your river guides some love, and we are happy to discuss norms for tipping – just ask.
Registration and payment deadline has been extended through August 6, 2022. Capacity on this course is 14 students, and we will close registration once the roster is full.
All deposits and payments are non-refundable. Payment plans are available. Payments can be made by mailing in an old-fashioned check, or by credit card or bank transfer via the link in your electronic invoice.
OUR PROFESSIONAL OUTFITTING PARTNER

Since 1979, locally-owned, Vernal-based Dinosaur River Expeditions has been sharing the magic of the Green and Yampa Rivers with visitors from across the world. Owners Tyler and Jennifer Callantine share our passion for healthy rivers, and Freeflow is proud to work with DRE as our licensed and permitted professional outfitter for this trip.