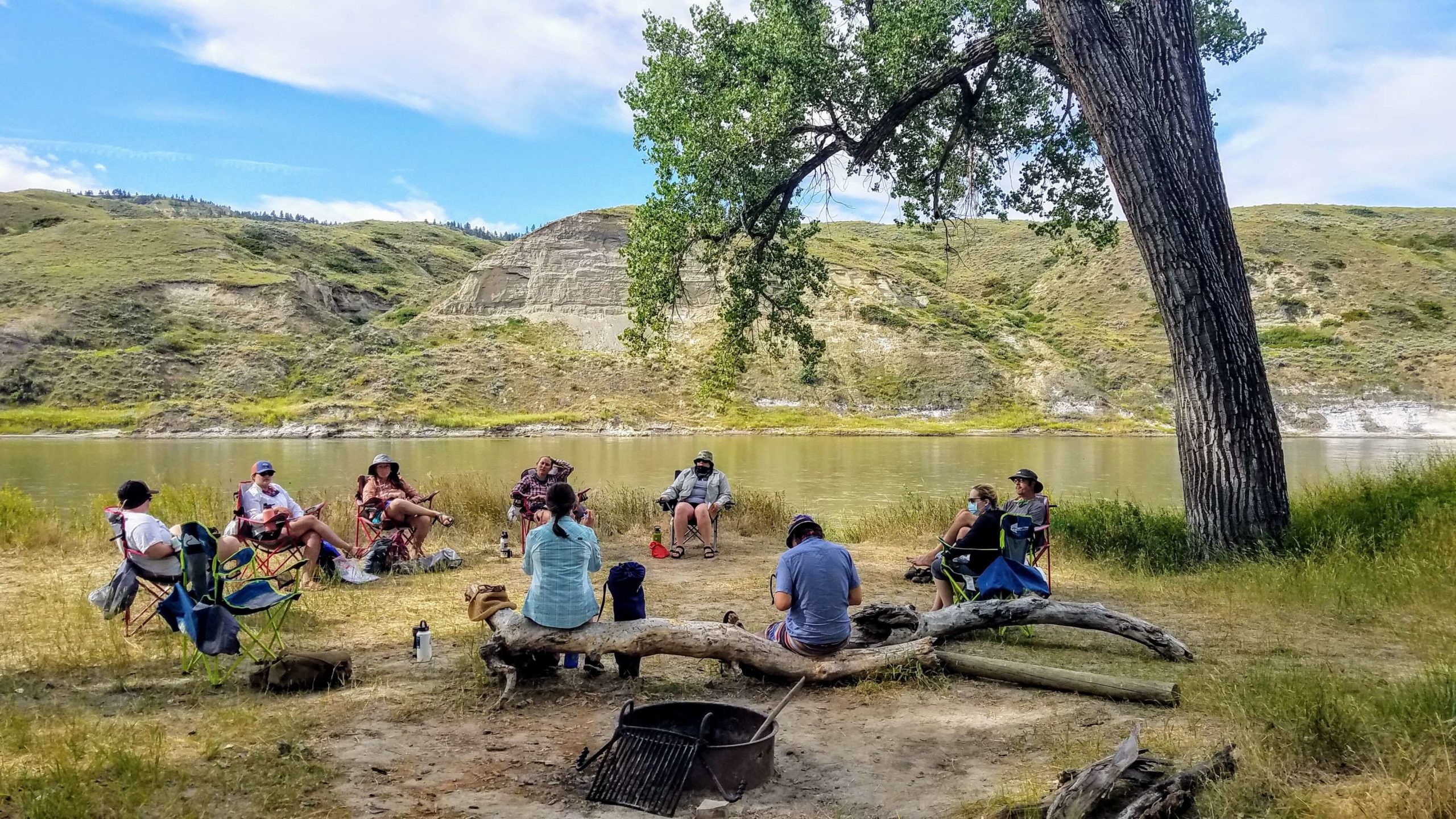 2022 Blackfoot River Workshop
hosted by Chris La Tray, author of One-Sentence Journal: Short Poems and Essays From the World At Large (2018, Riverfeet Press); Descended from a Travel-worn Satchel (2021, FootHills Publishing), and the upcoming Becoming Little Shell (2023, Milkweed Editions)
19 – 22 JUNE 2022 | BIG BLACKFOOT RIVER | MONTANA
A four-day float down the storied Big Blackfoot River with Chris La Tray, and a focused, exploratory deep dive into place
ABOUT Chris
Chris La Tray is a Métis writer and storyteller. His first book, One-Sentence Journal: Short Poems and Essays From the World At Large (2018, Riverfeet Press) won the 2018 Montana Book Award and a 2019 High Plains Book Award. His next book, Becoming Little Shell, is forthcoming from Milkweed Editions. Chris is an enrolled member of the Little Shell Tribe of Chippewa Indians and lives near Missoula, Montana.
Listen to Chris La Tray's interview on The Freeflow Podcast.
Many of us feel defined by place. Places important to our lives or our livelihoods. Places we have come to love through our travels, whether in the real world or through the stories we love. What is North America without the story of how many Indigenous cultures came to call it Turtle Island? Who cares about the One Ring if not for the landscapes of Middle Earth? Would we know Ellen Meloy's name without the deserts and rivers that sustained her? What about Ed Abbey, or Amy Irvine, or Terry Tempest Williams, or Craig Childs? What about Tommy Orange's Oakland? What about James Welch's Hi-Line? What about Louise Erdrich's Turtle Mountains? And what about your place? Are you a freelancer trying to get people to care about climate change? Are you a novelist building your own world? Or maybe you are a poet exploring land and rivers and want to make your images glow.

This workshop will be a study of place. Places important to you, places of cultural significance, the history of your place, even your imagined places. What what makes them special? What makes them worth fighting for? What makes you love them? What are the details that can make a place a character in the story? There are many ways to get to know a place; through story, through science, through history. We will discuss them. In the end, we will all be better writers when it comes to exploring these wonderful places.

– Chris La Tray, 2022
Participants will receive a list of readings, audio pieces, and video to be reviewed before the course. The cohort will convene two times via Zoom in the month prior to meeting in Missoula for the field experience. Tentative dates for Zoom discussions are Thursday, June 2 and Thursday, June 9.
The course is accredited through the University of Montana, and optional college credit is available for undergraduate and graduate students.
The workshop may also count toward continuing ed credits for professionals in some fields. (Check with your organization to see if the workshop can count toward your professional development!)
PLAN YOUR ADVENTURE
Evening of June 18, 2022 ORIENTATION in Missoula, Montana
Morning of June 19 – afternoon of June 22, 2022 FIELD EXPERIENCE on the Blackfoot River
IS THIS COURSE A GOOD FIT FOR YOU?
ALL writers and storytellers from ALL backgrounds are welcome. Established and emerging writers of all genres and levels are encouraged to apply.
There is NO prerequisite of publication or formal writing education. Students should be compelled learn about writing as a form of contemplation, expression, edification, activism, or connection to places and people.
COSTS + DEADLINES
Because we believe teachers and students need regenerative outdoor experiences more than most, Freeflow always extends a small discount to contracted educators and enrolled students. We also offer a small discount to our alumni. Because we believe in paying our instructors, facilitators, support staff, and guides an equitable wage, we do not offer individual discounts that compromise the integrity of those wages.
If you need financial support on your Freeflow course, we invite you to read about our scholarship offerings here. Please check our scholarship page often.We're also very happy to email or talk on the phone with you about which scholarships might be right for you!
We are also offering one full-tuition scholarship, open to anyone who experiences a barrier to outdoor pursuits or creative work to be used on Chris's 2022 Blackfoot River Workshop. You may apply for this scholarship here. If you have trouble with the application, you can contact us at [email protected] or 406.808.8025 and we will help you.
The program cost includes:
daily writing instruction and one-on-one sessions with Chris La Tray and Freeflow staff
transportation between Missoula, Montana and the Blackfoot River
delicious, nutritious meals and snacks on the trip
professional, licensed river guides
all taxes and access fees
waterproof bags, lifejackets, and all specialized river and safety gear
If you don't have a tent, sleeping bag, or sleeping pad, please let us know and we'll help you find these essential items.
Guide gratuities are not included in the program cost. We strongly suggest giving your river guides some love, and we are happy to discuss norms for tipping – just ask.
Registration and payment deadline is JUNE 1, 2022. Capacity on this course is 10 students, and we will close registration once the roster is full.
We ask for a non-refundable $500 deposit to save your space once you've been accepted into the workshop.
All deposits and payments are non-refundable. Payment plans are available. Payments can be made by mailing in an old-fashioned check, or by credit card or bank transfer via the link in your electronic invoice.