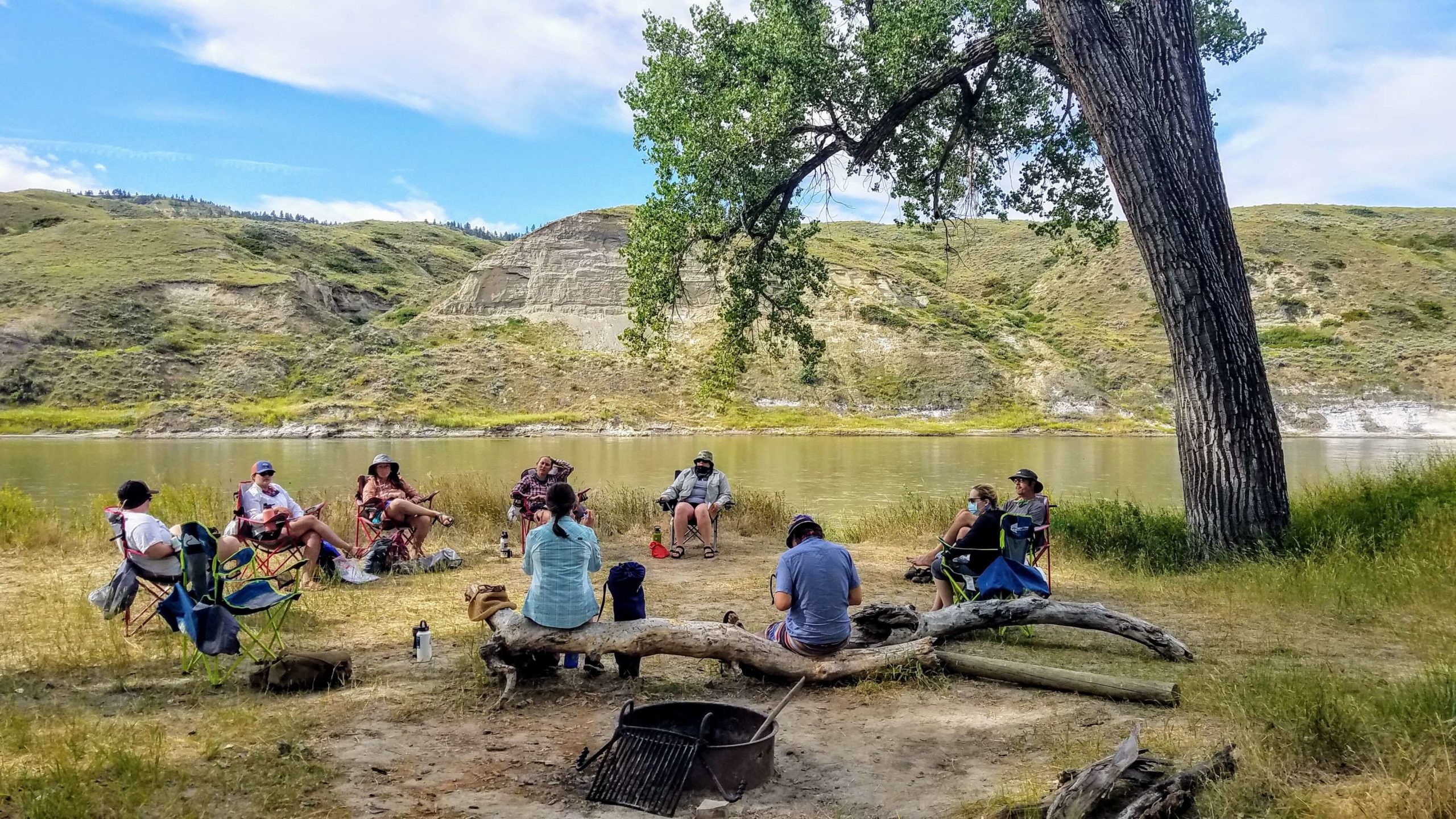 Learning to Tell the River's Story
Learning to Tell the River's Stories
hosted by Alexis Bonogofsky + Elliott Woods
featuring Terry Tempest Williams, Ronan Donovan, Rick Bass, and Doug Peacock
12 – 18 AUGUST 2019 / YELLOWSTONE RIVER / MONTANA
An issues-based, journalistic meander through Greater Yellowstone ecosystem and the longest undammed river in the contiguous United States
The Yellowstone River Field Institute is an intensive week-long field course for multimedia storytellers, working journalists, and students of journalism. This program will take participants on foot through the rugged and wild Black Canyon of the Yellowstone River, inside Yellowstone National Park (YNP), to look at access issues and the effects of human and automobile traffic in YNP. We will then take to the river – the Yellowstone, a hard-working waterway and also the longest undammed river in the contiguous United States – where we'll spend days and nights floating in rafts and camping at working ranches along the way. We'll travel though Yankee Jim Canyon and into the Tom Miner Basin area of Paradise Valley, examining developmental pressures in Greater Yellowstone Ecosystem (GYE) and their effect on ecological connectivity and animal migration. We'll discuss the perceived divide between working and wild landscapes, and consider climate change and its impact on water resources in GYE. The course will culminate in two nights at historic and plush Chico Hot Springs, at the base of Emigrant Peak.
Course co-instructors Alexis Bonogofsky and Elliott Woods will infuse the course in diverse professional experience and perspective.
The first evening of the Institute, we welcome Terry Tempest Williams to speak with our group, introducing us to the Yellowstone region and establishing a foundation for the week's work.
Alexis Bonogofsky is a fourth-generation Montanan, goat and sheep rancher, and freelance writer and photographer, who lives and works along the Yellowstone River in southeastern Montana. Her writing and photography is prolific through the West. (Listen to Alexis' recent conversation with Ed Roberson on his Mountain & Prairie podcast.)
Elliott Woods is a freelance magazine writer and photographer based in Livingston, Montana. He covers politics, the environment, and a slew of other issues for Outside, High Country News, The New Republic, and numerous other publications. His work has taken him all over the United Stated and the world, from central Africa to Afghanistan and Myanmar. He has received a National Magazine Award and an Overseas Press Club Award and has been featured in the Best American Travel Writing series.
A variety of guest speakers and workshop facilitators will add further dimension and breadth to the course.
Is this program for you?
Do you want to strengthen your skills in telling effective, compelling stories?
Are you invested in learning about issues facing public lands, communities, and ecosystems in the West?
Are you a storyteller, a student of journalism, a working journalist, or a professional communicator?
Program Details
PLEASE NOTE: All Yellowstone River Field Institute program components are subject to change due to wildfire, park or river closure, and permitting limitations.
DAY 1
Share an exclusive evening of round-table discussion with conservation and literary legends Terry Tempest Williams, Rick Bass, and Doug Peacock.
Establish context, build foundation, and forge connection to Paradise Valley in a very special evening with Terry, Rick, and Doug. We'll all stay at Pine Creek Lodge, where we'll enjoy a delicious meal together and discuss the craft of storytelling while considering current issues facing the region.
DAY 2 + 3
Backpack the rugged Black Canyon of the Yellowstone River + explore access issues in Yellowstone National Park
For this portion of the program, participants should be in good physical condition (able to walk 10 miles in a day, over uneven ground, while carrying a 25-lb pack).
Discuss recreational and river access issues in Yellowstone National Park
Analyze traffic flow and seasonal congestion in Yellowstone National Park
Discuss field techniques in observation and description of place
Consider techniques for interviewing, question design, investigative research, and other journalistic topics
DAY 4 + 5 + 6
Raft the Yellowstone River from the north entrance of Yellowstone National Park through Yankee Jim Canyon and Paradise Valley
Discuss climate change and its impact on water resources in the Greater Yellowstone Ecosystem
Participate in generative writing exercises and discuss techniques for telling compelling stories, effective observation, and communicating a sense of place
Explore the working ranches, homesteads, and wildlands of the Tom Miner Basin and Paradise Valley
Discuss developmental pressures in Greater Yellowstone and their effects on ecological connectivity and animal migration
Discuss the perceived divide between working and wild landscapes
Practice interviewing and observational techniques while visiting local ranches and homesteads
DAY 7
Relax in the healing waters of spectacular, historical Chico Hot Springs Resort
Synthesize the week's work on your own while exploring Chico
Debrief the experience with your cohort
Consider innovative techniques for communicating environmental issues
Discuss story concepts and pitching
COSTS + DEADLINES
Your program cost includes:
daily writing instruction + one-on-one sessions with Alexis Bonogofsky, Elliott Woods, guest instructors, and Freeflow staff
transportation between Livingston, Montana, and the Yellowstone
all meals on the course
professional, licensed backpacking + river guides
personal flotation devices (PFDs) and all river safety gear
pre-course reader
Sleep kits (tent + sleeping bag + sleeping pad) may be rented, if you don't have your own.
Registration deadline is June 30, 2019. Capacity on this course is 11 students, and we will close registration once it is full.
Our preferred methods of payment are check, money order, or FREE bank transfer via the link in the invoice we'll email to you. 
How to Earn Credit
This course is accredited through the University of Montana as JRNL 491: Yellowstone River Field Institute. Please contact Freeflow Institute to find out how to EARN COLLEGE CREDIT while exploring the rivers of the West.
Program Cancellation Policy
Program deposits and fees are non-refundable. The remainder of the program balance is due on June 30th unless otherwise specified, and is non-refundable at that time.  Space is limited on all of our trips and once you have registered, we no longer have the opportunity to sell your reserved space; however, transfer of your space to another participant is usually an option. We STRONGLY encourage purchasing trip insurance (try www.insuremytrip.com).  We reserve the right to cancel a trip due to reasons including, but not limited to, insufficient reservations, water levels, health issues, wildfires, and other issues that may impact your ability or desire to participate in the trip. In the unlikely case of trip cancellation, a full refund will be issued.