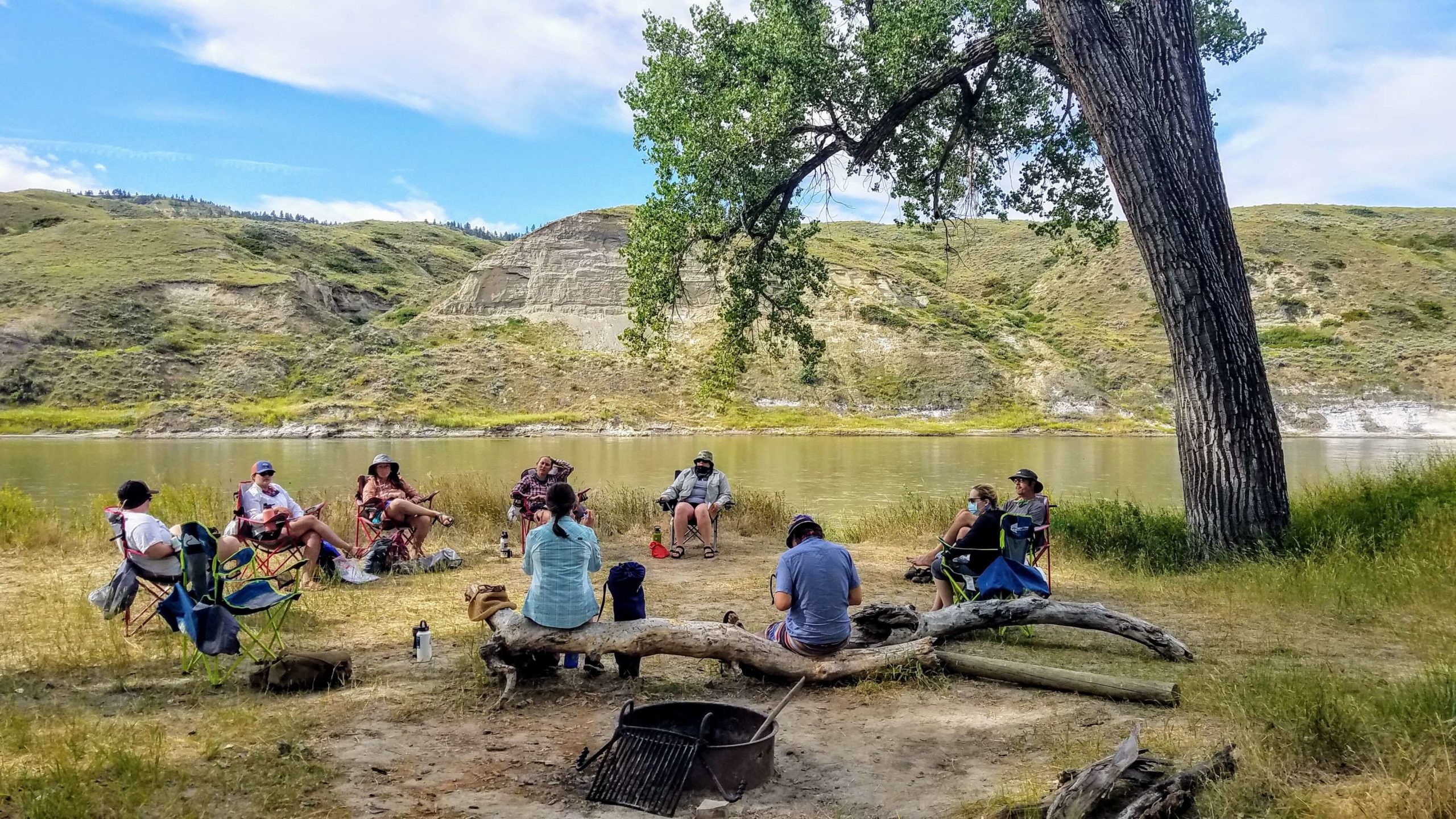 The Law of People and Place 2022: Yellowstone
with Professors Michelle Bryan + Monte Mills
11 – 17 JULY 2022  /  YELLOWSTONE RIVER WATERSHED  /  YELLOWSTONE NATIONAL PARK, MONTANA
A dynamic field course in natural resources and Indian law in the context of an iconic Western river and landscape, offered in collaboration with the University of Montana's Summer Indian Law Program
ABOUT THE FIELD COURSE
This summer, explore the Greater Yellowstone region on foot, by boat, and in dialog, comparing federal, state, and tribal approaches to cultural and natural resource management.
Learn about some of the key laws governing the Yellowstone River watershed, including the Wild & Scenic Rivers Act, federal national park laws, forest laws, wildlife laws, water laws, and tribal laws governing cultural and natural resources. Background readings drawn from history, policy, and ecology, as well as tribally-sourced materials, will provide a place-based context for our discussions. Aside from the course faculty, students will hear from tribal representatives, private conservationists, federal land managers, and other stakeholders involved in management of the Greater Yellowstone Ecosystem. Themes explored include the management of tribally designated resource areas; comparisons to agency management of federally designated lands and waters; and cooperative management and private conservation models.
WHAT TO EXPECT
Here's a tentative itinerary, to give you an idea of what to expect on this course:
11 July / DAY 1 – We meet near Emigrant, Montana, and spend two days exploring Paradise Valley and setting the stage for our studies and conversations
12 July / DAY 2 – We meet with stakeholders and experts who help paint the picture of management in the Yellowstone region
13 July / DAY 3 – We head south to camp near Gardiner, Montana, the north entrance to Yellowstone National Park
14 July / DAY 4 – We launch on the Yellowstone River and float through Tom Miner Basin, visiting a working ranch along the way
15 July / DAY 5 – We continue to raft downstream through Paradise Valley and camp along the river
16 July / DAY 6 – We take off the river and head back toward the National Park to spend our final night together
17 July / DAY 7 – We wrap up our curriculum and decompress over breakfast, then head our separate ways after lunch
IS THIS COURSE A GOOD FIT FOR YOU?
This field course is a component of the University of Montana's Blewett School of Law's 15th annual Summer American Indian and Indigenous Law Program.
The field course is cross-listed for graduate credit in the University of Montana's Master of Public Administration Program and open to students in Native American studies, journalism, environmental studies, social work and others who are interested.
Attorney participation in this field course may be available, depending on the number of qualifying university students. CLE credits have not yet been calculated for the course. Please contact us with questions.
COSTS + DEADLINES
Please note that this course is currently full with a waitlist. To be added to the list, please contact Kitty Galloway at kitty(at)freeflowinstitute.com.
Register early because space is limited to 12 students. Registration is also subject to instructor approval, based on review of the applicant's essay (not more than 500 words) describing their interest in the course.
A non-refundable $500 deposit is required to save your space upon acceptance. Some scholarships are available to qualified students.
The program cost includes:
the full course, materials, and associated academic credits
all meals and snacks on the field course
professional, licensed river guides, as well as personal flotation devices (PFDs) and all river safety gear
all accommodations for the nights of July 11 – 17
permitting and entrance fees
Students must bring their own camping gear (tent, sleeping bag, sleeping pad). These items may be rented from UM's Campus Recreation Outdoor Program.
Additional student funding may further reduce this fee, as fundraising efforts are currently underway.
Registration and payment deadline is May 15, 2022. Capacity on this course is 12 students, and we will close registration once the roster is full.
All deposits and payments are non-refundable. Payment plans are available. Payments can be made by mailing in an old-fashioned check, or by credit card or bank transfer via the link in your electronic invoice.
Applications will be accepted and reviewed on a rolling basis.