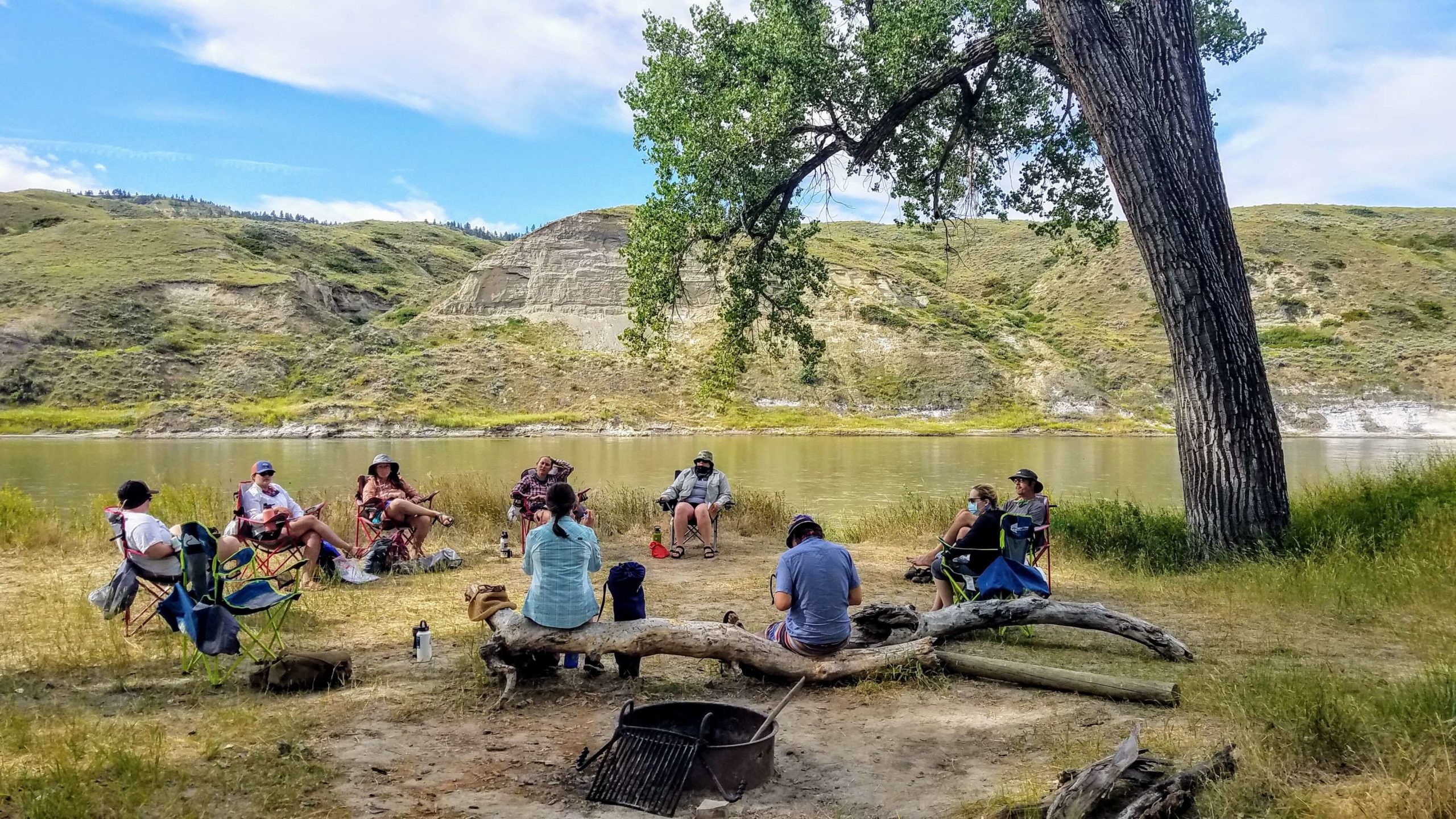 The Law of People and Place 2022:
The Crown of the Continent

with Professors Michelle Bryan + Monte Mills
25 – 31 JULY 2021  /  FLATHEAD + BADGER-TWO MEDICINE WATERHSEDS / MONTANA
A seven-day field course in natural resources and Indian law in the context of an iconic western landscape, offered in collaboration with the University of Montana's Summer Indian Law Program
ABOUT THE FIELD COURSE
This summer, explore the Crown of the Continent while comparing federal, state, and tribal approaches to cultural and natural resource management.
Learn about some of the key laws governing the Flathead and Badger-Two Medicine River watersheds, including the Wild & Scenic Rivers Act, federal national park laws, forest laws, wildlife laws, water laws, and tribal laws governing cultural and natural resources. Background readings drawn from history, policy, and ecology, as well as tribally-sourced materials, will provide a place-based context for our discussions. Aside from the course faculty, students will hear from tribal representatives, private conservationists, federal land managers, and other stakeholders involved in management of this Crown of the Continent ecosystem. Themes explored include the management of tribally designated resource areas; comparisons to agency management of federally designated lands and waters; and cooperative management and private conservation models.
WHAT TO EXPECT
Here's a tentative (draft) itinerary, to give you an idea of what to expect on this course:
25 July / DAY 1 – We meet in Missoula, then travel north to the Mission Valley, where we meet with Confederated Salish and Kootenai Tribal representatives to discuss the Mission Mountain Wilderness Area.
26 July / DAY 2 – We continue north, either to Hungry Horse Reservoir on the South Fork Flathead River, or to the Swan Valley.
27 July / DAY 3 – We move on to the West Glacier, where we'll gear up to spend two days and one night on the Wild and Scenic Middle Fork of the Flathead River.
28 July / DAY 4 – After a night sleeping alongside rushing water and a second day of paddling fun whitewater, we'll leave the river and travel east toward Marias Pass along the Continental Divide.
29 July / DAY 5 – After a morning hike, we travel to Browning or Heart Butte to meet with Blackfeet Tribal representatives. In the afternoon, we meander south toward Augusta and Choteau on the Rocky Mountain Front.
30 July / DAY 6 – We explore, on foot and with our senses, the dramatic landscape of the Rocky Mountain Front. We wrap up our lectures and synthesize our learning from the week in the field with some very special guest speakers.
31 July / DAY 7 – We decompress over breakfast and coffee, then pack up and drive back to Missoula to complete the circle.
IS THIS COURSE A GOOD FIT FOR YOU?
This field course is a component of the University of Montana's Blewett School of Law's 14th annual Summer American Indian and Indigenous Law Program.
The field course is cross-listed for graduate credit in the University of Montana's Master of Public Administration Program and open to students in Native American studies, journalism, environmental studies, social work and others who are interested.
Attorney participation in this field course may be available, depending on the number of qualifying university students. CLE credits have not yet been calculated for the course. Please contact us with questions.
COSTS + DEADLINES
Register early because space is limited to 12 students. Registration is also subject to instructor approval, based on review of the applicant's essay (not more than 500 words) describing their interest in the course.
Please email us for updated tuition and fees.
The program cost includes:
the full course, materials, and associated academic credits
all meals and snacks on the field course
transportation to and from Missoula
professional, licensed river guides, as well as personal flotation devices (PFDs) and all river safety gear
Students must bring their own camping gear (tent, sleeping bag, sleeping pad). These items may be rented from UM's Campus Recreation Outdoor Program.
Additional student funding may further reduce this fee, as fundraising efforts are currently underway.
Registration and payment deadline is May 15, 2021. Capacity on this course is 12 students, and we will close registration once the roster is full.
All deposits and payments are non-refundable. Payment plans are available. Payments can be made by mailing in an old-fashioned check, or by credit card or bank transfer via the link in your electronic invoice.
To apply for this field course, send a statement of interest to [email protected] (or fill out the form below), and you will be provided with a link to submit your essay. Applications will be accepted and reviewed on a rolling basis.
OUR PROFESSIONAL OUTFITTING PARTNER

Since 1983, Glacier Guides and Montana Raft's mission has been to provide exceptional active experiences in and around Glacier National Park, while preserving and protecting Glacier's unique ecosystem using the best available, ecologically-sound practices. Freeflow Institute is proud to work with Montana Raft as our licensed and permitted professional outfitter for this trip.