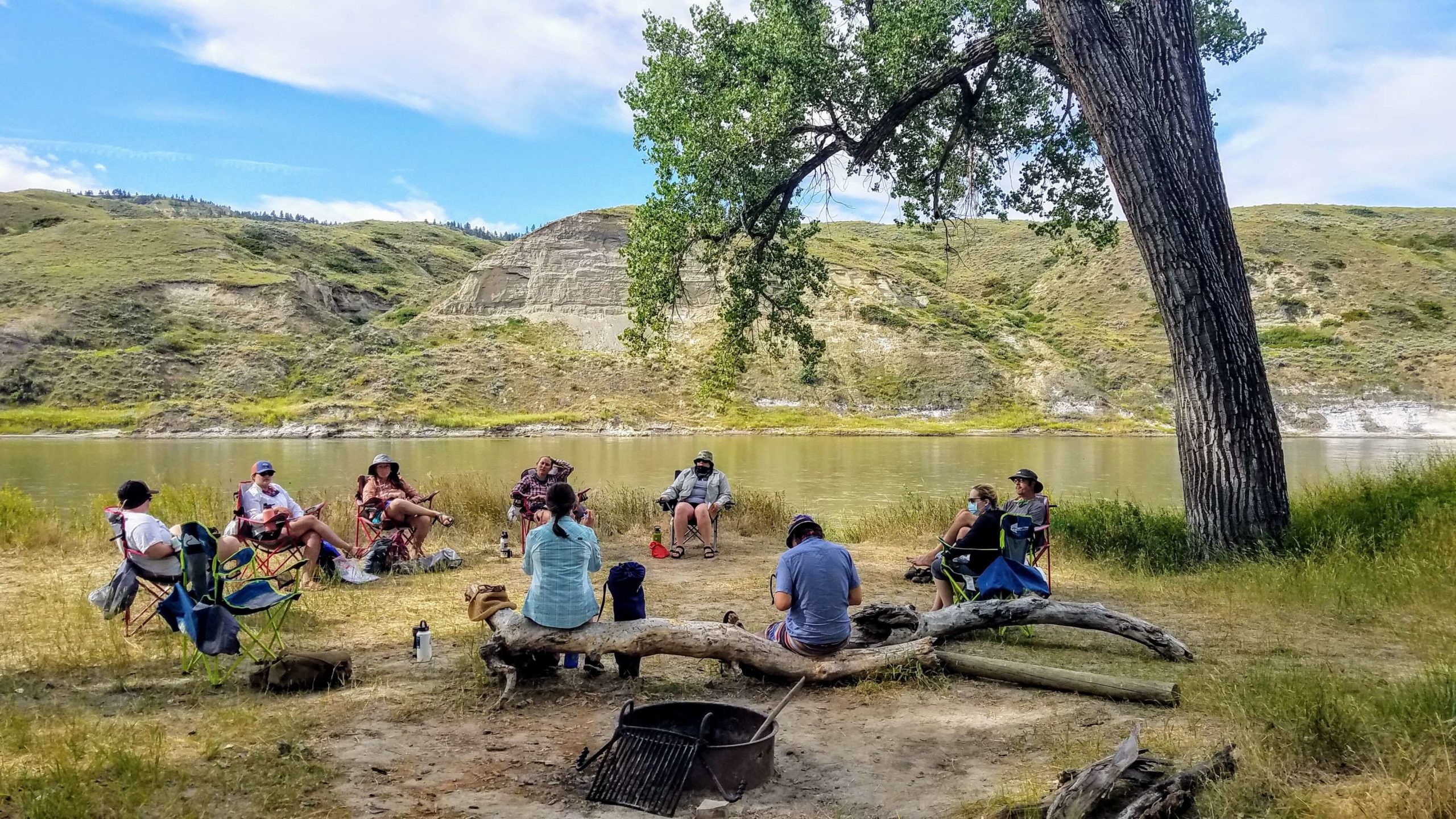 The Law of People and Place 2020
The Missouri River Breaks
with Professors Michelle Bryan + Monte Mills
13 – 19 JULY 2020 / MISSOURI RIVER / MONTANA
A seven-day field course in natural resources and Indian law in the context of an iconic western landscape, offered in collaboration with the University of Montana's Summer Indian Law Program
ABOUT THE FIELD COURSE
This summer, traverse the culture, geography, and law of the Upper Missouri River by canoe and on foot, with a stay at the American Prairie Reserve.
Learn about some of the key laws governing the Upper Missouri River and its environs, including the Wild & Scenic Rivers Act, National Monument laws, rangelands laws, wildlife refuge laws, and the laws governing tribal sovereignty. Background readings drawn from history, policy, and ecology, as well as the Lewis & Clark Expedition journals, will provide a place-based context for our discussions. Aside from the law school faculty, students will hear from tribal representatives, ranchers, conservationists, federal and state land managers, and other stakeholders involved in management of this ecosystem. Themes explored will include pipeline and mining impacts on tribes, bison conservation in ranching country, balancing cultural protection and resource use, and wildlife management in a working landscape.
WHAT TO EXPECT
July 12 (evening): Pre-course orientation in Missoula (exact location TBA)
July 13: The field course will begin in historic Fort Benton, Montana.
July 14 – 17: We will take to the river, floating in canoes through the Wild & Scenic Upper Missouri River Breaks. Along the way we will hike, read, discuss, and soak in the history and beauty of this important American waterway.
July 17-19: After four days on the water, we'll leave the river at Judith Landing and transfer to the American Prairie Reserve for two more nights of exploration, analysis, and discussion.
July 19: We will wrap up the field course and return to Missoula mid-day.
IS THIS COURSE A GOOD FIT FOR YOU?
This field course is a component of the University of Montana's Blewett School of Law's 13th annual Summer American Indian and Indigenous Law Program.
The field course is cross-listed for graduate credit in the University of Montana's Master of Public Administration Program and open to students in Native American studies, journalism, environmental studies, social work and others who are interested.
Attorney participation in this field course may be available, depending on the number of qualifying students. CLE credits have not yet been calculated for the course. Please contact us with questions.
COSTS + DEADLINES
Register early because space is limited to 12 students. Registration is also subject to instructor approval, based on review of the applicant's essay (not more than 500 words) describing their interest in the course.
Please email us for updated tuition and fees.
The program cost includes:
the class and associated academic credits
all meals and snacks on the field portion of the course
transportation
professional, licensed river guides
personal flotation devices (PFDs) and all river safety gear
Students must bring their own camping gear (tent, sleeping bag, sleeping pad). These items may be rented from UM's Campus Recreation Outdoor Program.
Additional student funding may further reduce this fee, as fundraising efforts are currently underway.
Registration and payment deadline is May 1, 2020. Capacity on this course is 12 students, and we will close registration once the roster is full.
All deposits and payments are non-refundable. Payment plans are available. Payments can be made by mailing in an old-fashioned check, or by credit card or bank transfer via the link in your electronic invoice.
To apply for this field course, send a statement of interest to [email protected] (or fill out the form below), and you will be provided with a link to submit your essay. Applications will be accepted and reviewed on a rolling basis.
OUR PROFESSIONAL OUTFITTING PARTNER
Since 1989, family-owned and Montana-based Lewis & Clark Trail Adventures has been sharing the rivers of the West with visitors and locals alike. The Freeflow Institute is proud to work with LCTA as our licensed and permitted professional outfitter for this trip.