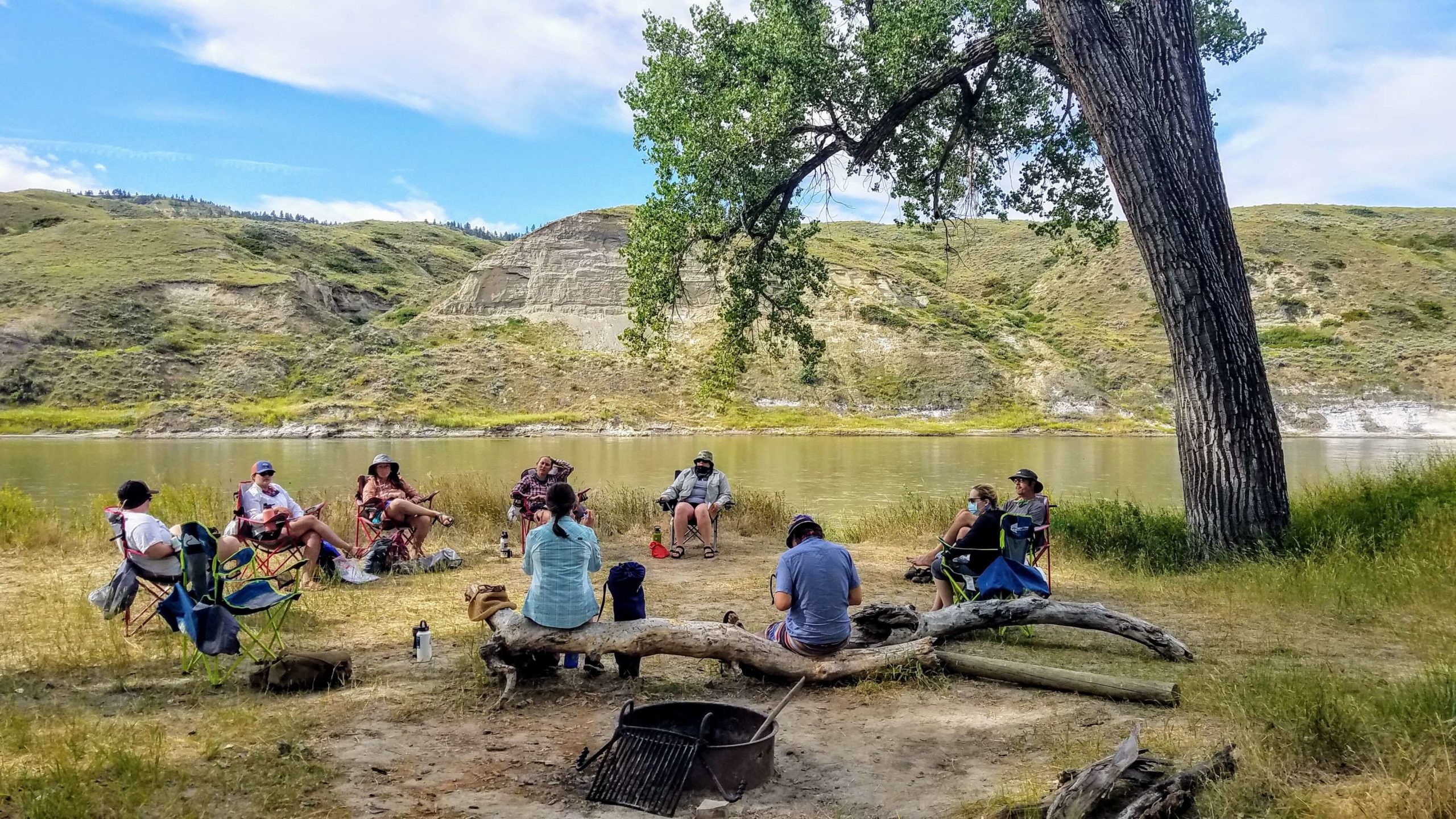 Learning to Tell the River's Story
Learning to Tell the River's Stories
hosted by David James Duncan, author of The River Why
3-6 AUGUST, 2019  /  BIG BLACKFOOT RIVER /  MONTANA
A multi-faceted generative workshop, wherein memories and experience are summoned and sculpted by river current, sand, sun and Time.
It is relevant to this workshop to know that in the mid-1990's David James Duncan gave a year of his life to defending the Blackfoot River (along with a ragtag army of others) when it was threatened by an enormous cyanide heapleach goldmine (see "The War for Norman's River" in My Story as Told By Water).
In 2010 he gave another six months to fighting Exxon Mobil's plan to turn the Blackfoot, Lochsa, Clearwater, Snake and Columbia River corridors into a conduit for gigantic, illegal, highway-closing industrial hell-gear flowing from the Pacific Rim industrial nations to the Alberta Tar Sands (see the 2010 book The Heart of the Monster or the video of the same title).
Due to those very surprising collaborative victories over far greater powers, we get to spend four days in August calling an intact Blackfoot "the office," as we hone our writing skills, deepen our river love and knowledge, and float the very river "cut by the world's great flood… (running) over rocks from the basement of time." May we come away able to say, with Norman, "I am haunted by waters."
Is this program for you? (How could you say no?)
Are you enamored of Montana's fabled rivers?
Do you find poetry in moving water?
Are you seeking inspiration, guidance, or direction in your writing practice?
Who Should Apply
Established and emerging writers of all genres are encouraged to apply, though instruction will focus primarily on personal and creative writing. Poets, memoirists, university writing students, science writers, creative writers, journalists, and environmental writers will certainly find this workshop valuable. There is NO prerequisite of publication or formal writing education. Rather, all students are simply expected to engage continuously in discussion and production of written work.
What to Expect
The daily schedule of the course will vary depending on the water levels, weather, and myriad other unpredictable factors involved in a multi-day river trip.
Integral to the course is intentional exploration of place: side hikes and excursions away from the river will be offered daily.
An element of personal challenge is inherent to the course. You will be encouraged to step beyond the limits of comfort, both physically and intellectually/creatively. Freeflow staff will be there to guide and support you as they move through this landscape.
Students with disabilities are also encouraged to apply and participate, as special accommodations are easily made.
LEARNING OBJECTIVES
Recognize the importance of prose rhythms and learn how to identify and strengthen them.
Celebrate the absolute importance of a healthy imagination.
Consider and discuss the importance of "tight lines" in your writing.
Learn how to find and write what Duncan calls your "river tooth experiences."
Deepen or develop your understanding of the Blackfoot River corridor and the nuances of its associated ecosystems, human histories, and the contemporary challenges and issues facing its management.
Consider your moral or ethical accountability for protection of wild spaces, as well as the impact that societal, ecological, and personal decisions or forces can have on those places.
PRE-TRIP ORIENTATION
August 2, 2019 in Missoula, MT 4:30 – 6:00 pm
If you're coming into Missoula from out of town, let us know and we'll help you choose a comfy B&B, hotel, or hostel. There are also options to camp near Missoula after the pre-trip orientation. You'll have time after orientation to enjoy dinner in Missoula, organize your gear, and get a good night's rest before we depart early the next day.
FIELD EXPERIENCE
August 3 – 6, 2019 on the Big Blackfoot River
We'll meet at Lewis & Clark Trail Adventures' office in the morning and head out to the Blackfoot from there.
COSTS + DEADLINES
Your program cost includes:
transportation between Missoula and the Blackfoot River
all meals, snacks, Big Sky beer, and wine on the trip
professional, licensed river guides
pre-course reader
daily writing instruction + one-on-one sessions with David James Duncan and Freeflow staff
personal flotation devices (PFDs) and all river safety gear
Sleep kits (tent + sleeping bag + sleeping pad) may be rented.
Guide gratuities are not included in the program cost. We are happy to discuss norms for tipping river guides – just ask.
Registration deadline is May 30, 2019. Capacity on this course is 10 students, and we will close registration once it is full.
Our preferred methods of payment are check, money order, or free bank transfer via the link in the invoice we'll email to you. 
What to Bring
Once you are registered for the course, we'll send you a river trip packing list. We'll also provide you with a pre-trip reader and suggested supplemental reading list, as well as any "homework" to be compiled or completed before the course begins.
Our Professional Outfitting Partner
Since 1989, family-owned and Montana-based Lewis & Clark Trail Adventures has been sharing the rivers of the West with visitors and locals alike. The Freeflow Institute is proud to work with LCTA as our licensed and permitted professional outfitter for this trip.
How to Earn Credit
This course is accredited through the University of Montana as ENST 491: Learning To Tell the River's Stories. Please contact Freeflow Institute to find out how to EARN COLLEGE CREDIT while exploring the rivers of the West.
Program Cancellation Policy
Program deposits and fees are non-refundable. The remainder of the program balance is due on May 15th unless otherwise specified, and is non-refundable at that time.  Space is limited on all of our trips and once you have registered, we no longer have the opportunity to sell your reserved space; however, transfer of your space to another participant is usually an option. We STRONGLY encourage purchasing trip insurance (try www.insuremytrip.com).  We reserve the right to cancel a trip due to reasons including, but not limited to, insufficient reservations, water levels, health issues, wildfires, and other issues that may impact your ability or desire to participate in the trip. In the unlikely case of trip cancellation, a full refund will be issued.