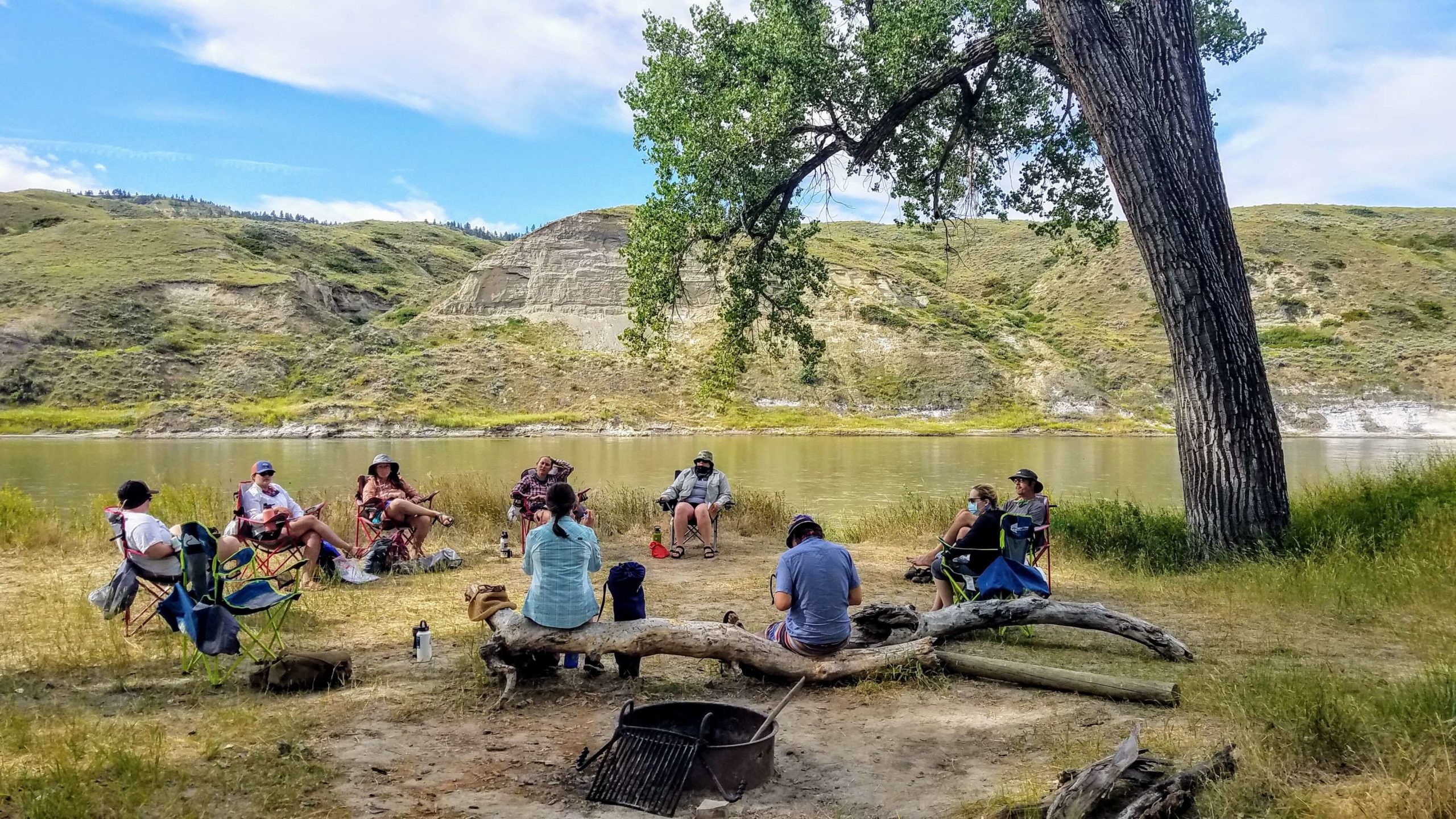 2021 The Ecology of Wisdom
Biology, History, and the Feminine in the Idaho Wilderness
hosted by CMarie Fuhrman, author of Camped Beneath the Dam: Poems and co-editor of Native Voices
July 5 – 10, 2021 / South Fork Salmon River drainage, Idaho
A five-day multidisciplinary workshop for women, on foot through the wild corridor of Idaho's imperiled and spectacular South Fork Salmon River
ABOUT Cmarie
CMarie Fuhrman is the author of Camped Beneath the Dam: Poems (Floodgate 2020) and co-editor of Native Voices (Tupelo 2019). She has published poetry and nonfiction in multiple journals includingEmergence Magazine, Yellow Medicine Review, Cutthroat a Journal of the Arts, Whitefish Review, Broadsided Press, Taos  International Journal of Poetry and Art, as well as several anthologies.  CMarie is a regular columnist for the Inlander, the Translations Editor for Broadsided Press, Non Fiction Editor for High Desert Journal, and Director of the Elk River Writers Conference.  She resides in the mountains of West Central Idaho.  
ABOUT THE Workshop
This unique experience is not centralized on traveling by river, but more of being with the river for five short miles of its course. We'll slow to the pace of the river corridor. We'll consider how the land that holds the river and the water itself is affected by natural and anthropogenic changes to the system. We'll discuss endemic species of fish, terrestrial predators, sediment and turbidity, and flow dynamics. We will learn about and from the original inhabitants of this corridor, and we'll consider the language of the river – the way the water provides sustenance for bodies, communities, legends, and spirits. And as writers we may learn new ways to tell the river's stories, as well as our own.
Draft Agenda
*Please note that all locations, guest speakers, and activities are TENTATIVE and subject to change.
Day One: Leave McCall, Idaho and travel to the confluence of the Secesh and South Fork Salmon Rivers. We'll meet with guest speakers – Indigenous storytellers, linguists, historians, and US Forest Service biologists among them.
Day Two: Hike roughly 6 miles to our base camp along the South Fork Salmon. After setting up camp, we'll enjoy a reading, writing prompt, and fireside discussion.
Day Three: We'll have a morning reading followed by a writing prompt. After lunch we'll talk stream-side about the biology and ecology of the South Fork Salmon watershed. We'll take afternoon and evening hikes, and we'll convene for more discussion in the evening.
Day Four: In the morning we'll enjoy more reading, writing, and discussion. After lunch we'll talk with a conservationist and fisheries biologist about what lies at the confluence of recreation and preservation. In the late afternoon folks can hike, write, read, or simply watch the light change on the mountainsides.
Day Five: Leave camp and make the return to the confluence of the Secesh. We'll catch a ride back to McCall, where we'll gather for an evening of decompression, synthesis, and good conversation.
Day Six: After sharing one last breakfast together, we'll say our goodbyes and go our separate ways.
An element of personal challenge is fundamental to a Freeflow experience. To that end, the workshop incorporates movement – along the river and through the landscape – as well as intentional exploration of place, as individuals and as a group.
Participants will receive a list of readings, audio pieces, and video to be reviewed before the course. Participants will be expected to prepare fully by reviewing all required items on the media list ahead of the workshop.
The cohort will convene two times via Zoom in the month prior to meeting in McCall for the field experience.
The course is accredited through the University of Montana, and optional college credit is available for undergraduate and graduate students.
The course may also count toward continuing ed credits for professionals in some fields. Check with your organization or institution to see if the workshop can count toward your professional development.
Plan Your Adventure
Morning of July 5 – early afternoon of July 10 FIELD EXPERIENCE in the South Fork Salmon River watershed: Begin and end in McCall, Idaho
IS THIS COURSE A GOOD FIT FOR YOU?
This workshop is for women only. Established and emerging writers of all genres are encouraged to apply.
Teachers, poets, multimedia storytellers, memoirists, science writers, creative writers, and environmental writers will find this workshop valuable.
There is no prerequisite of publication or formal writing education. Participants should be compelled learn about writing as a form of expression, edification, expansion, activism, or connection to places and people.
COSTS + DEADLINES
Because we believe teachers and students need regenerative outdoor experiences more than most, Freeflow always extends a discount to contracted educators and enrolled students.
The program cost includes:
daily writing instruction and one-on-one sessions with CMarie Fuhrman and Freeflow staff
pre-course reader and course materials
transportation between McCall, Idaho and the trailhead
delicious meals, snacks, and wine on the trip
water filtration and camp cooking gear
all taxes and access fees
Please let us know if you do NOT have your own backpacking pack (minimum 55 L), sleeping bag (rated to 20 degrees or colder), sleeping pad (lightweight and suitable for backpacking), or tent. We'll gladly help you find these essential items for rent or purchase.
Capacity on this course is 12 students, and we will close registration once the roster is full.
All deposits and payments are non-refundable. Payment plans are available. Payments can be made by mailing in an old-fashioned check, or by credit card or bank transfer via the link in your electronic invoice.