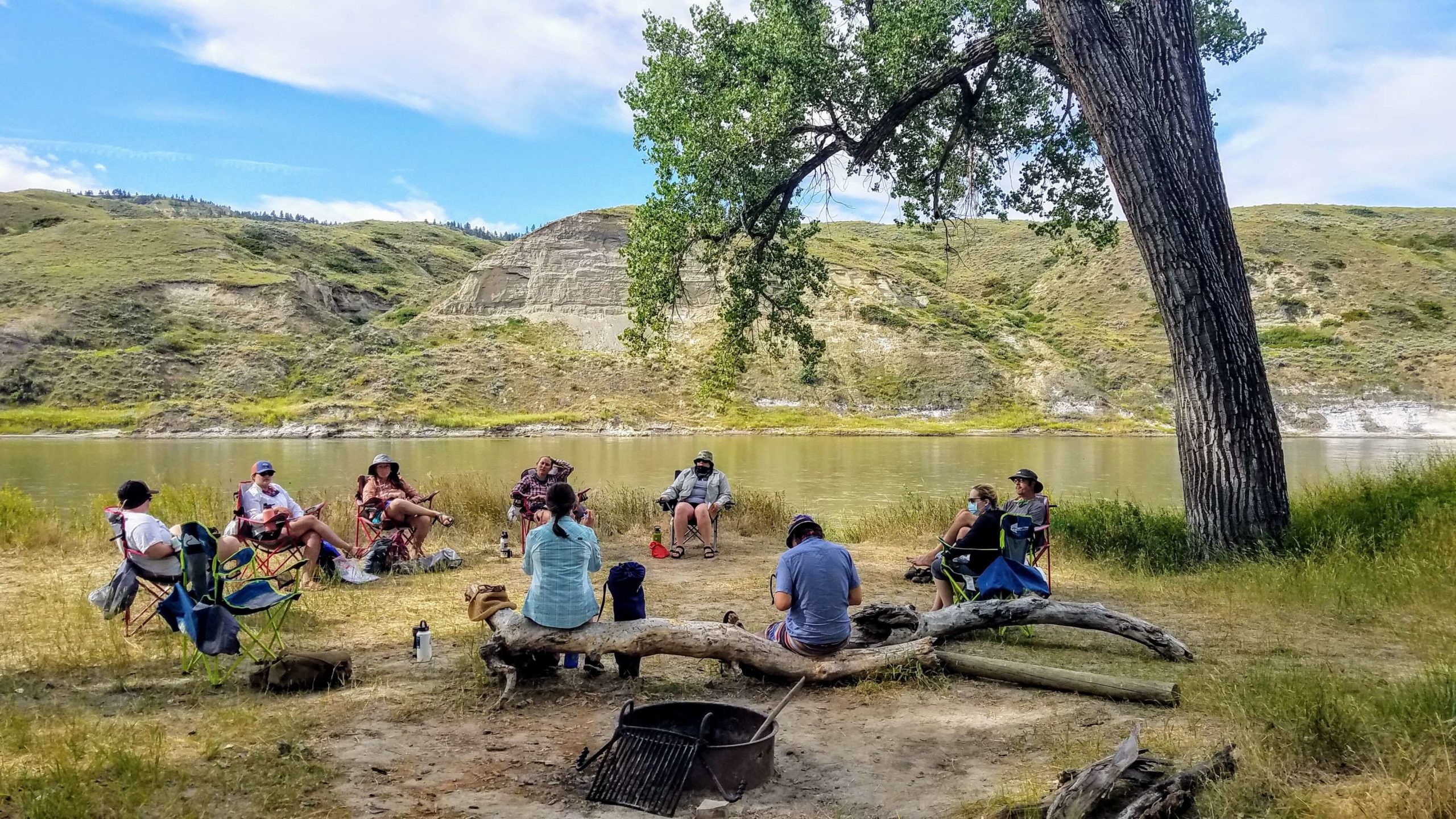 2018 Wild Journalism
Wild Journalism
HOSTED BY HAL HERRING, award-winning environmental journalist and contributing editor at Field and Stream Magazine
12 – 17 JUNE 2018  /  UPPER MISSOURI RIVER BREAKS  /  MONTANA
Hal Herring will host this 6-day exploration of journalistic storytelling in the Upper Missouri River Breaks National Monument. This is a land / water hybrid adventure, with the first four days of course spent paddling canoes slowly downstream through the meandering Wild and Scenic Upper Missouri River, along spectacular white cliffs of Eagle sandstone. The final two days we travel through and around the American Prairie Reserve, examining the complexities and challenges of collaborative management of an exceedingly fragile landscape.
Participants will hone their ability to critically analyze and discuss place-based literary journalism; consider and strive toward creating a sense of place and well-developed character in their own journalistic writing; and examine their moral or ethical accountability for protection of wild spaces, as well as the impact that societal, ecological, and personal decisions or forces can have on those places.
The course will explore the following central questions, among others:
How might a writer's connection to wild, ecologically intact places underpin works of literature that, on the surface, have little to do with nature or environmental themes?
How might one's exposure to tales or myths, most of which have their origins in the primal and untamed spaces, shape and influence our work as modern storytellers?
How does literature expose the foundations of all human endeavor, interaction, and psychology as the wild world that surround us?
Is this program for you? (We're willing to bet the short answer is YES.)
Do you like to read?
Do you like to write?
Are you curious about the way we interact with our natural world?
Who Should Apply
ANYONE WHO LIKES TO READ + WRITE + EXPLORE. This workshop is versatile and open to communicators, storytellers, and writers of all genres and backgrounds. Our emphasis will be the review and exploration of the elements of the craft of effective journalism and storytelling. Journalists, university writing students, science writers, creative writers, and environmental writers will certainly find this workshop valuable. There is no prerequisite of publication or formal writing education.
What to Expect
PRE-TRIP MEETING + HAPPY HOUR June 11, 2018 in Fort Benton, Montana
Meet your cohort and Freeflow staff, discuss logistics, and ask last-minute questions of your trip leader and instructor in historic Fort Benton, Montana. We have suggestions for places to stay and how to get to Fort Benton – just ask us!
June 12 – 15
4 days floating through the Wild + Scenic Upper Missouri River Breaks National Monument
June 16 + 17
2 days exploring the American Prairie Reserve
Our professional outfitting partner
Since 1989, family-owned and Montana-based Lewis & Clark Trail Adventures has been sharing the rivers of the West with visitors and locals alike. The Freeflow Institute is proud to work with LCTA as our licensed and permitted professional outfitter for this trip.
COSTS + DEADLINES
Your program cost includes:
multiple writing workshops daily with Hal Herring
conversations with and presentations by key stakeholders and storytellers
professional, licensed river guides
gourmet meals on the river + wine at night
personal flotation device (pfd) + all river safety gear
river use permit fees
transportation between Fort Benton and the Missouri Breaks + American Prairie Reserve
tents + sleeping pads (sleeping bags may be rented for $40)
A river trip through the Missouri Breaks, though not excessively strenuous (it's quite luxurious, actually!), will require you to move over uneven ground, across rocks, and through water. We recommend that you engage in regular, moderate physical training / activity for at least the two months prior to your trip. Basic swimming skills, though not necessarily required, will help with your comfort on the river. If you have any health conditions or concerns, please let us know and we will help you determine how to best prepare for your trip.
This program is accredited through the University of Montana's School of Journalism as "Literature of Wild Journalism," JRNL 391. Please contact the Freeflow Institute to find out how to EARN COLLEGE CREDIT while exploring the rivers of the West.
For more information, please get in touch with us!   [email protected]
Program Cancellation Policy
Program deposits and fees are non-refundable. The remainder of the program balance is due on May 15th unless otherwise specified, and is non-refundable at that time.  Space is limited on all of our trips and once you have registered, we no longer have the opportunity to sell your reserved space; however, transfer of your space to another participant is usually an option. We STRONGLY encourage purchasing trip insurance (try www.insuremytrip.com).  We reserve the right to cancel a trip due to reasons including, but not limited to, insufficient reservations, water levels, health issues, wildfires, and other issues that may impact your ability or desire to participate in the trip. In the unlikely case of trip cancellation, a full refund will be issued.