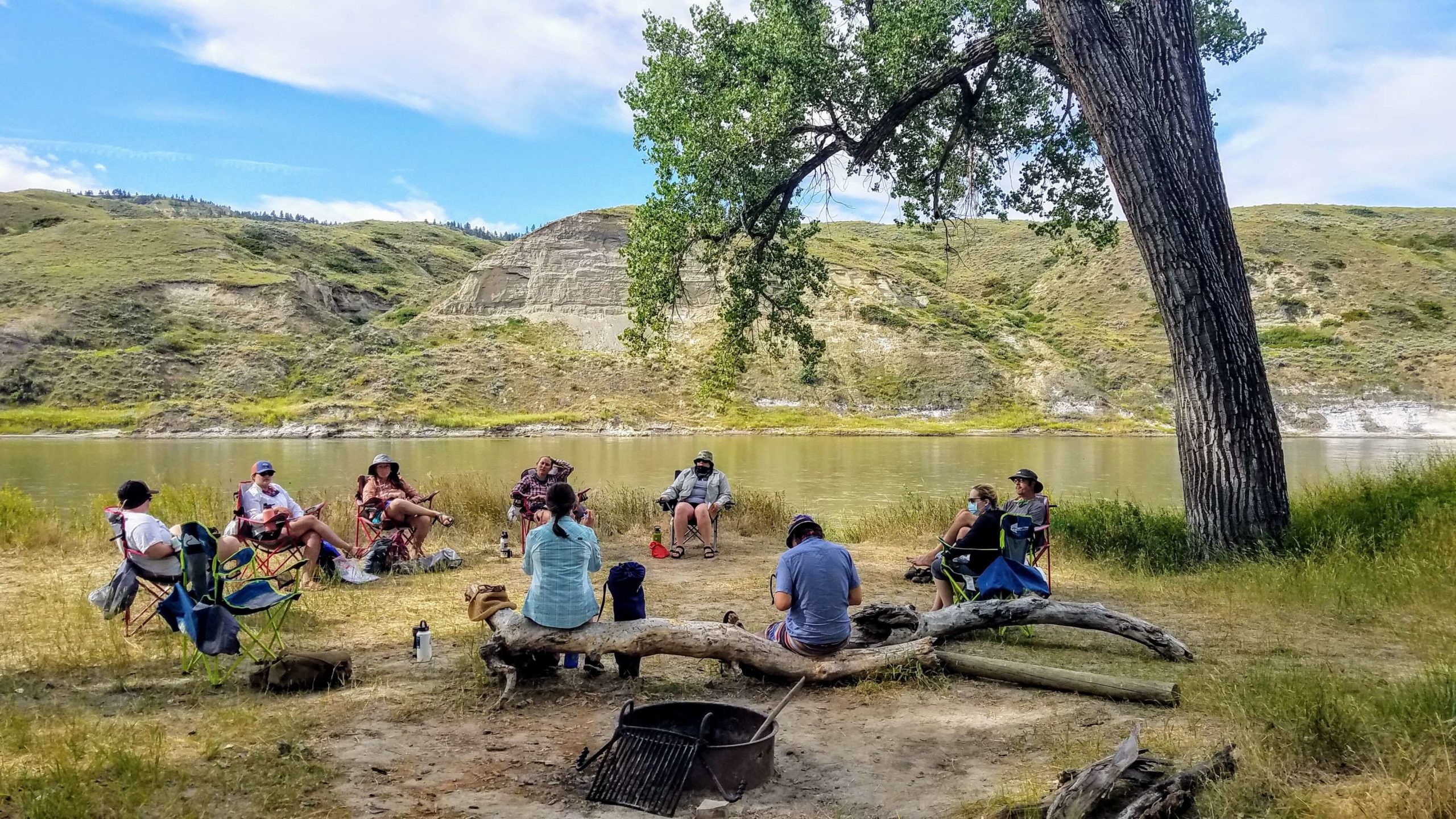 2018 Salmon River Writing Retreat
hosted by William deBuys, author of A Great Aridness + The Last Unicorn
23 – 28 JUNE 2018 / MAIN SALMON RIVER / IDAHO
William deBuys, Pulitzer finalist and an undisputed master of his craft, will lead this remarkable 6-day writing workshop on the Main Salmon River, through the heart of Idaho's Frank Church Wilderness.
Dubbed "The River of No Return" by early explorers, the Salmon is a stunningly pristine, free-flowing, federally designated Wild & Scenic waterway; the Frank Church is the largest contiguous swath of wilderness in the continental United States. This 90-mile wilderness trip boasts big sandy beaches, exciting rapids, charismatic big horn sheep, Native American pictographs, and natural hot springs.
William deBuys is a writer and conservationist based in Santa Fe, New Mexico. He is the author of The Walk and River of Traps, coauthored with photographer Alex Harris, which was a finalist for the 1991 Pulitzer Prize for general nonfiction and a 1990 New York Times Notable Book of the Year. DeBuys's other books are Salt Dreams: Land and Water in Low-Down California, which received a Western States Book Award, Seeing Things Whole:The Essential John Wesley Powell, A Great Aridness, and The Last Unicorn. His shorter work has appeared in many publications, including Story, Orion, and the New York Times Book Review.'
Is this program for you? (We sure think it is.)
Do you like to write?
Are you drawn to moving water?
Do you dream of creative adventures through wild spaces?
Who Should Apply
ANYONE WHO LIKES TO WRITE. Whether you are an emerging or established writer, a curious human with a budding interest in journaling, an academic or a hobbyist, you'll find value in this experience.
This workshop is uniquely versatile. Our emphasis will be the discovery and review of elements of craft that writers can put to use, irrespective of subject matter. Novice and experienced writers of all genres are encouraged to apply. Journalists, university writing students, science writers, creative writers, and environmental writers will certainly find this workshop valuable.
What to Expect
PRE-TRIP MEETING + HAPPY HOUR June 22, 2018 at DoubleTree Inn in Missoula, Montana
Meet your cohort and Freeflow staff, discuss logistics, and ask last-minute questions of your trip leader and instructor at the DoubleTree Inn, overlooking the Clark Fork River near downtown Missoula.
DEPART FROM MISSOULA + LAUNCH ON SALMON RIVER June 23, 2018
A multiday river trip is an exercise in simplicity. The excess and bustle of "the real world" is stripped away, leaving only the essential in its place. You'll find your rhythm on the river, trading cell phone for field notebook and alarm clock for birdsong.
Each morning, the birds and our guides will wake us with a coffee call; leisurely breakfast will follow. In the mornings, we will engage with a key question / meditation / exploration to help focus and guide our writing.
Each afternoon, at each new camp we visit, after we help our guides unload the rafts and change out of our river clothes, we will regroup for seminar-style discussion, complete with cold drinks and appetizers. In the evenings, we will have ample time to write / reflect independently or in small groups.
After dinner, you may choose to write some more, or you might take a walk along the beach, sit by the fire, or find a nook in which to read. Our Freeflow facilitator and instructor will be available to you throughout the evening and during periods of independent writing time.
Because the water will be high (meaning: lots of it, and moving quickly) in June, we will enjoy the gift of extra time in camp. We will offer side hikes to historical sites, pictographs, or high points along the river. We will also visit homesteads along the way, listen to historical talks from Salmon River residents, and explore the many facets of human and natural history of the region.
An element of personal challenge is involved in every Freeflow trip. We encourage you to step beyond the limits of your comfort zone, both physically and intellectually / creatively. We will always be there to guide and support you as you move through this new landscape.
Our Professional Outfitting Partner
Since 1989, family-owned and Montana-based Lewis & Clark Trail Adventures has been sharing the rivers of the West with visitors and locals alike. The Freeflow Institute is proud to work with LCTA as our USFS and USDA – Salmon National Forest licensed and permitted professional outfitter for this trip.
COSTS + DEADLINES
Your program cost includes:
multiple writing workshops daily with William deBuys
professional, licensed river guides
gourmet meals on the river + wine at night
personal flotation device (pfd) + all river safety gear
river use permit fee
transportation between Missoula and the Salmon River
tents + sleeping pads (sleeping bags may be rented for $40)
This river trip, though not excessively strenuous (it's quite luxurious, actually!), will require you to move over uneven ground, across rocks, and through water. We recommend that you engage in regular, moderate physical training / activity for at least the two months prior to your trip. Basic swimming skills, though not necessarily required, will help with your comfort on the river. If you have any health conditions or concerns, please let us know and we will help you determine how to best prepare for your trip.
This program is accredited through the University of Montana's Environmental Studies program as "Salmon River Seminar," ENST 491. Please contact the Freeflow Institute to find out how to EARN COLLEGE CREDIT while exploring the rivers of the West.
For more information, please get in touch with us! [email protected]
Program Cancellation Policy
Program deposits and fees are non-refundable. The remainder of the program balance is due on May 15th unless otherwise specified, and is non-refundable at that time. Space is limited on all of our trips and once you have registered, we no longer have the opportunity to sell your reserved space; however, transfer of your space to another participant is usually an option. We STRONGLY encourage purchasing trip insurance (try www.insuremytrip.com). We reserve the right to cancel a trip due to reasons including, but not limited to, insufficient reservations, water levels, health issues, wildfires, and other issues that may impact your ability or desire to participate in the trip. In the unlikely case of trip cancellation, a full refund will be issued.